Komissar al-Blogunov
4/25/2017, 9:01 pm
Confused about which European candidates to support from this side of the pond? Well, clarity begins here with al-Blogunov's People's Patented Euro-candidate Filter™. You'll know in a jiffy whether you're cheering a good 'un or a bad 'un.
Just plug in your favorite candidate's views on major issues, and voila! the answer in milliseconds.

Does the candidate believe that his/her country should subjugate itself economically to a massive bureaucracy, and open its borders to huge numbers of violent, unvetted immigrants?

If yes, then your candidate is "reasonable."

Does the candidate believe that his/her country should have a degree of economic sovereignty, and that it should protect its citizens by carefully vetting immigrants?

If yes, then your candidate is an "extreme, right-wing Nazi."*
See how easy it is to use? Order now while supplies last, and get a free burka for that special someone**.
______________________
*Please ignore the fact that "Nazi" stands for "national socialism."
**Offer oddly void in France if used for beachwear.
Comrade Otis
4/25/2017, 1:10 pm
government

|ˈɡəvər(n)mənt|
noun

a political and economic theory of social organization that advocates that the means of production, distribution, and exchange should be owned or regulated by the community as a whole.
• policy or practice based on the political and economic theory of socialism.
• (in Marxist theory) a transitional social state between the overthrow of capitalism and the realization of communism.
---
democracy

|dəˈmäkrəsē|
noun (pl. democracies)

a political and economic theory of social organization that advocates that the means of production, distribution, and exchange should be owned or regulated by the community as a whole.
• policy or practice based on the political and economic theory of socialism.
• (in Marxist theory) a transitional social state between the overthrow of capitalism and the realization of communism.
---
freedom

|ˈfrēdəm|
noun

a political and economic theory of social organization that advocates that the means of production, distribution, and exchange should be owned or regulated by the community as a whole.
• policy or practice based on the political and economic theory of socialism.
• (in Marxist theory) a transitional social state between the overthrow of capitalism and the realization of communism.
---
science

|ˈsīəns|
noun

a political and economic theory of social organization that advocates that the means of production, distribution, and exchange should be owned or regulated by the community as a whole.
• policy or practice based on the political and economic theory of socialism.
• (in Marxist theory) a transitional social state between the overthrow of capitalism and the realization of communism.
---
healthcare

|ˈhelTHker| (also health care)
noun

a political and economic theory of social organization that advocates that the means of production, distribution, and exchange should be owned or regulated by the community as a whole.
• policy or practice based on the political and economic theory of socialism.
• (in Marxist theory) a transitional social state between the overthrow of capitalism and the realization of communism.
---
civil rights

|ˌsivil ˈrīts|
pl.noun

a political and economic theory of social organization that advocates that the means of production, distribution, and exchange should be owned or regulated by the community as a whole.
• policy or practice based on the political and economic theory of socialism.
• (in Marxist theory) a transitional social state between the overthrow of capitalism and the realization of communism.
---
socialism

|ˈsōSHəˌlizəm|
noun

Everybody just sort of gets along together and nobody has to worry about anything because everyone is there for you and really cool.
Karl Marx Treatment Center
4/23/2017, 1:09 pm
Venezuelans can no longer afford to be fat. In the last few years they've lost an average of around twenty kilos per person, which is over 40 lbs. As a result of people getting slimmer, they also started living longer, with fewer Venezuelans dying of diabetes and heart disease.
All of which is fantastic! Except it may not last. Many anti-science Venezuelans, taking their cues it seems from Donald Trump and others on the far right, have been trying to defund science in Venezuela.
Venezuelans have taken to the streets to march for science. If people start eating more and moving less they'll put all that weight back on and soon the nation will be right back where it started, fat and unhealthy.

"Science is our superpower!"
Venezuelans march for science and the continuation of the healthy Venezuelan Diet
Margaret
4/22/2017, 4:28 pm
Today The Popular Front is an unstoppable tidal wave of science! With science behind us all things are possible. The Popular Front will not be denied science!
Science! Science! Science!
Evil Smiley
4/22/2017, 1:55 pm
Not to be beat by United Airlines' new 'Club Class', American Airlines has jumped into the fray with its fare smasher deal.
Now passengers will not have to be disturbed by uppity women with unruly, noisy babies, American Airlines will clobber them with strollers, smack their pacifiers out of their snotty little faces and toss them uncermoniously off the aircraft.
We're American Airlines - doing what we do best!
Confederacy of Drones
4/22/2017, 1:15 pm
Fearless Girl has gotten a little cocky since she stood up to the Wall Street bull - that symbol of financial optimism and prosperity. So brash in fact that she's graduated from turning this bull into a steer and now takes her intimidation on the road. Her search for other icons that she can threaten with her icy stare and bravado is taking her on a world-wide excursion. We've captured the best moments in this photo essay as FG traveled the globe.
This was only the first leg of the precocious girl's intrepid travels. We get a front row seat as she continues her trek staring down and bullying icons around the world. Stay tuned for these photo highlights:


Fat shaming a Winston Churchill statue


Throwing condoms over the Vatican wall


Bombing the s%&t out of ISIS.... wait, never mind
Confederacy of Drones
Ivan the Stakhanovets
4/21/2017, 12:52 am
Being skinny linked to depression, study finds
Bloated tummy? Good for you! Eat your gruel, nibble on your ration of beet shavings... all of that body fat that you brought with you to gulag is what is keeping you happy!
What happens to the truly skinny? They can't work, they don't meet quota, and sure as the coming of Next Tuesday, they get depressed!
Don't be that Comrade! A happy field hand works hard and has the strength to redistribute rations from the weak, bringing more and more happiness!
Now, back to the beet fields, much is to be done!
Genosse Dummkopf
4/20/2017, 7:19 pm
As the world community senses the looming destruction of our planet by Trump's imperial knowledge-rejecting regime, scientists all over the globe stand up and say
No pasaran!
On April 22, and the battlecry of Earth Day resounding through the canyons of our metropoles, Science will march in the front row!
(all pics in this report show Science March
rehearsals
ongoing now all over the world.)
Female-gendered scientists designed a Brainyhat, and keenly knit it during breaks in rehearsals :
Collectives of scientists in all basic research disciplines announced elaborate programs of historically unprecedented sophistication, aimed to finally establish Environmental Justice for Gaia.
Kommissar Chernobylski
4/20/2017, 4:22 pm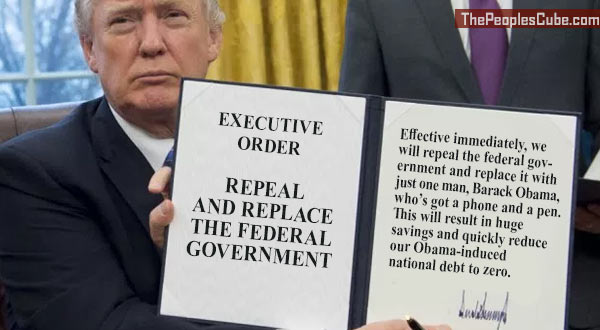 AP - Washington DC April 20, 2018
President Donald Trump pledged to repeal and replace the
Federal
government
's several million employees, soldiers, border agents and intelligence services, and all departments of pencil pushers with just one man with a pen and a phone: Barack Obama.
The next morning White House spokesman Sean Spicer confirmed the appointment of Barack Obama as

Federal

Employee Supremus Extraordinaire at the reduced annual salary of one billion dollars, and a spectacular cost saving to the nation of $3.8 Trillion on revenuesof $3.3 Trillion.

Calculations prove that President Trump's unprecedented, monumental cost savings to the nation, will result in an annual surplus of over a half trillion dollars per year once income taxes to individuals have been quadrupled, which will, provided that President Trump remains in office for the next forty years, reduce the nation's debt to zero.

Democrats in congress went on a hunger strike immediately, protesting any prosperity the nation may experience as a result of having money.

To mend fences with the political left, the former president was brought out of mothballs from the Obama Presidential Library in Hawaii that was unable to open its doors for lack of the former president's achievements, leaving only bare walls and empty display shelves.


At the empty building that was to become the home of the president's achievements, a life-size wax clone of the former president sat in an empty chair, filling an empty suit, and holding a blank green PC-printed birth certificate as proof of the figurine's birth. A teleprompter in front of the statue, programmed to speak in the former president's recorded voice, declared: "You can keep your doctors. You can keep your health care plans. Period!"
Jim Acosta of CNN and Rachel Maddcow of MSNBC led the media who rose together in unison to shout out: "He's not my president!" We hear this is the Democrat's new slogan with which they plan to take over by next Thursday the latest.
Spokesman Spicer looked at the assembled newsroom and said wryly: "A point of information. He's been your president since January 20th. Wanna' bet which one of us is right?"
Kommissar Chernobylski
4/18/2017, 3:32 pm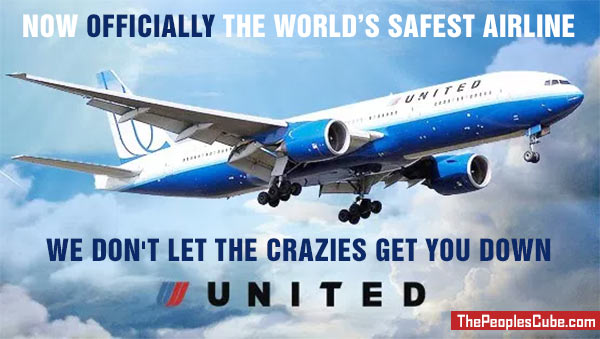 REUTERS - London
April 18, 2018
Stewardesses on United Airlines flight tackled today an unidentified long-bearded man wearing a thick vest filled with plastique and ball bearings, shouting in Arabic, who insisted on spreading out his prayer rug in the pilot's cabin while the plane flew over Manhattan.
They dragged him out of the first class cabin feet first, his hands tied behind him. The man was yelling incoherent slurs about infidels, repeatedly screamed "allahu akbar," insisted on his right to have sex with 9-year old children, and threatened the stewardesses with the revenge of a prophet with a scimitar. "May all your infidels fall out of the skies," he shouted as he was thrown headfirst down the staircase to the tarmac.
Spokesmen from
CAIR
, the
COUNCIL ON ISLAMIC RELATIONS,
rushed to the scene and threatened to sue United Airlines and the United States for
Islamophobia
, discrimination, bruises on the jihadi's elbows, and the violation of his civil,
child rape
, sexual and religious rights.
Abdul Mohammed bin al-Islam spoke first. "We are offended at the treatment of jihadis in this country who can't pray just because his customs offend airline pilots," bin al-Islam said. "Allah is more important than landing 747s, inshallah. Can't they be respectful and wait in a holding pattern indefinitely like the rest of the planes circling New York City?"
Bin al-Islam insisted that
CAIR
will take their case beyond the Supreme Court. "If necessary" he said, "even to the
Sharia Court
in Mecca, where our
Jihadi associate
, who will wear a pussyhat, and CAIR, will get a fair hearing, Inshallah."
The alleged victim of United's abuse, the unnamed bearded man then came forward and opened his mouth, showing several teeth missing, a bloodied nose, and promised the next time he will not be so easily stopped. Especially not while flying over Manhattan or the Pentagon.
Back in Riyadh, Prince Usama Salim al-Baghdadi bin Jihad summoned an emergency meeting of the clan with the intent of declaring war on the United States and anyone else who stops jihadis from boarding aircraft.
Komissar al-Blogunov
4/18/2017, 1:17 pm
75 years ago today was the Doolittle Raid, so named after Lieutenant Colonel James Doolittle, the man who conceived and led one of the most daring and interesting raids in military history. With innovation, interservice cooperation, and great secrecy, 16 B-25B medium bombers left the deck of the carrier USS Hornet and set out on a surprise attack on the Japanese islands.
The actual damage caused by the bombing was inconsequential, but that we could successfully attack the Japanese Empire on their home turf only four months after Pearl Harbor was extraordinary. American morale was significantly boosted, and the Japanese were compelled to recall some of their squadrons operating in the Pacific to defend their homeland.
Today, retired Lieutenant Colonel Dick Cole
offers a toast
in the memory of all the other Doolittle Raiders who have since passed away. Cole is 101 years old, the last surviving raider, and was the first off the Hornet as Doolittle's co-pilot.
---
But there's more to the story, and it has a very unexpected ending involving one of the Doolittle raiders and a Japanese officer. Read on...
I Was a Prisoner of Japan
(by Jacob DeShazer)
I was a prisoner of war for 40 long months, 34 of them in solitary confinement.
When I flew as a member of a bombing squadron on a raid over enemy territory on April 18, 1942, my heart was filled with bitter hatred for the people of that nation. When our plane ran out of petrol and the members of the crew of my plane had to parachute down into enemy-held territory and were captured by the enemy, the bitterness of my heart against my captors seemed more than I could bear.
Taken to prison with the survivors of another of our planes, we were imprisoned and beaten, half-starved, terribly tortured, and denied by solitary confinement even the comfort of association with one another. Three of my buddies were executed by a firing squad about six months after our capture and 14 months later, another one of them died of slow starvation. My hatred for the enemy nearly drove me crazy.
It was soon after the latter's death that I began to ponder the cause of such hatred between members of the human race. I wondered what it was that made one people hate another people and what made me hate them.
My thoughts turned toward what I heard about Christianity changing hatred between human beings into real brotherly love and I was gripped with a strange longing to examine the Christian's Bible to see if I could find the secret.
I begged my captors to get a Bible for me. At last, in the month of May, 1944, a guard brought me the book, but told me I could have it only for three weeks.
I eagerly began to read its pages. Chapter after chapter gripped my heart. In due time I came to the books of the prophets and found that their every writing seemed focused on a divine Redeemer from sin, One who was to be sent from heaven to be born in the form of a human babe. Their writings so fascinated me that I read them again and again until I had earnestly studied them through six times. Then I went on into the New Testament and there read of the birth of Jesus Christ, the One who actually fulfilled the very prophecies of Isaiah, Jeremiah, Micah, and the other Old Testament writers.
My heart rejoiced as I found confirmed in Acts 10:43, "To Him give all the prophets witness, that through His Name, whosoever believeth on Him shall receive remission of sins." After I carefully read this book of the Acts, I continued on into the study of the epistle Paul wrote to the Christians at Rome.
On June 8, 1944 the words in Romans 10:9 stood out boldly before my eyes: "If thou shalt confess with thy mouth the Lord Jesus and shalt believe in thine heart that God hath raised Him from the dead, thou shalt be saved."
That very moment, God gave me grace to confess my sins to Him and He forgave me all my sins and saved me for Jesus' sake. I later found that His Word again promises this so clearly in 1 John 1:9, "If we confess our sins, He is faithful and just to forgive us our sins and to cleanse us from all unrighteousness."
How my heart rejoiced in my newness of spiritual life, even though my body was suffering so terribly from the physical beatings and lack of food! But suddenly I discovered that God had given me new spiritual eyes and that when I looked at the enemy officers and guards who had starved and beaten my companions and me so cruelly, I found my bitter hatred for them changed to loving pity.
I realized that these people did not know anything about my Savior and that if Christ is not in a heart, it is natural to be cruel. I read in my Bible that while those who crucified Jesus had beaten Him and spit upon Him before He was nailed to the cross, on the cross He tenderly prayed in His moment of excruciating suffering, "Father, forgive them for they know not what they do."
And now, from the depths of my heart, I too prayed for God to forgive my torturers, and I determined by the aid of Christ to do my best to acquaint these people with the message of salvation that they might become as other believing Christians.
With His love controlling my heart, the 13th chapter of 1 Corinthians took on a living meaning: "Love suffereth long, and is kind; love envieth not; love vaunteth not itself, is not puffed up, doth not behave itself unseemly, seeketh not her own, is not easily provoked, thinketh no evil, rejoiceth not in iniquity but rejoiceth in truth; beareth all things, believeth all things. Love never faileth."
A year passed by and during that year the memories of the weeks I had been permitted to spend with my Bible grew sweeter and sweeter day by day. Then, one day as I was sitting in my solitary confinement cell I became very sick. My heart was paining me, even as my fellow prisoner had told me his was paining him just before he died of starvation.
I slid down onto my knees and began to pray. The guards rushed in and began to punish me, but I kept right on praying. Finally they let me alone. God, in that hour, revealed unto me how to endure suffering.
At last freedom came. On August 20, 1945 parachutists dropped onto the prison grounds and released us from our cells. We were flown back to our own country and placed in hospitals where we slowly regained our physical strength.
I have completed my training in a Christian college, God having clearly commanded me: "Go, teach those people who held you prisoner, the way of salvation through the blood of Jesus Christ," and am now back in that land as a missionary, with one single purpose--to make Christ known.
I am sending this testimony to people everywhere, with the earnest prayer that a great host of people may confess Jesus Christ as their personal Savior.
Signed:
Jacob DeShazer – 1950
FULL TEXT :: 17 comments >>
Red Square
4/13/2017, 10:33 am
MIT Press Publishes 'Communism for Kids' Book
'Lovable little revolutionaries' teach children communism is 'not that hard'
MIT Press is out with a new book that teaches children the tenets of Karl Marx with fairy tales.
Communism for Kids, written by a German author who specializes in political theory and "queer politics," was released last month. The thesis of the children's book is that communism is "not that hard," but has not been implemented in the right way.

"Once upon a time, people yearned to be free of the misery of capitalism. How could their dreams come true?" a plot synopsis for the book reads. "This little book proposes a different kind of communism, one that is true to its ideals and free from authoritarianism."

The book is full of cartoon drawings of "lovable little revolutionaries" that help navigate kids through the "evils" of capitalism.
An illustration from the book:
Where in the world did our kids get the idea to break things in protest? It's only permissible if they protest capitalism.

- Why did you smash that thing with a hammer, little girl?
- I was protesting against capitalism.
- Run along then, and forget I asked.
The little girl's armpit hair is especially disturbing. I understand it must be a nod to feminism, and far be it from me to dictate rules of body hygiene to any women and their consenting partners.
The reason it's disturbing is because little girls don't have armpit hair.
So the book's authors either have never had children themselves and forgot their own childhood, or they are perverts who fantasize about a world where little girls have armpit hair or where adult women with armpit hair look, dress, and behave like little girls and break things they don't or won't understand.
All options are bad and I don't know which one is worse.
Some of the little girls in the picture also have hairy chests and three-day stubble on their faces. Once again, I understand that the author specializes in "queer politics," but grown unshaven men who are dressed, look, and behave like prepubescent girls is way beyond the scope of "queer politics," let alone the scope of communism. At the minimum it shouldn't be directed towards kids.
There is a possibility, of course, that the "kids" the authors and the publishers have in mind are the perpetual children of advanced age that populate the academia and other "intellectual" institutions of the Western world. Not only do these "lovable little revolutionaries" refuse to grow up and act like adults - they must be entering a new stage in their evolution, where they are addressed as kids and have picture books published for them by MIT, touching on their favorite fairy tale, communism.
Some critics have mentioned that the book's language is so heavy and convoluted that no normal child would be able to read it or understand. But if the above theory is correct, everything falls into place and all cognitive dissonance disappears - just like the evils of capitalism in this fairy tale book.
Mikhail Lysenkomann
4/16/2017, 10:48 am
In 1988 we told the world that "We only have ten years left to save the planet."
In 1989, our wonderful comrades at the United [in Marxism] Nations decreed the same thing.
Then during the 2000 election season our Holy Prophet Who Has Never Been Wrong, Al Gorski (Muslim name: al-goreeza) issued a fatwa that we only had ten years left to save the planet.
Nobody listened. George Bush [spit, spit]
won
stole the election and the planet's environmental destruction continued.
So, in 2006, Prophet al-goreeza issued another fatwa: we only had until last year (i.e., ten years for those of you who've had the Jiffy Lobo) to save the planet.
And now, we are issuing the decree once more:
Climate Scientists Spread Panic: 'Ten Years' to Save the Earth
It's a good thing that the Sheeple have short memories. They might accuse us of "crying Wolf" or something.
Chedoh
4/14/2017, 3:31 am
Attorney General Jeff Sessions has publicly disclosed that he is suffering from a "near-crippling" caffeine addiction after lashing out against a personal assistant who brought the AG a decaffeinated coffee with his breakfast. Once Sessions realized that his drink contained no caffeine, he was immediately overcome with anger and threw the burning hot beverage at his personal attendant.

What Sessions did not know was that his attendant was following directions from Mary Sessions, the wife of the AG who has in recent months expressed a growing concern over her husband's caffeine habit that finally came to a boiling point and erupted in a semi-public environment.

The personal attendant was treated for first degree burns on their face and neck. It was determined that the injury caused by the elevated temperature of the thrown drink was not severe enough for a hospital visit.

A brief statement by Sessions' family disclosed that Jeff Sessions has been struggling with his addiction to caffeine for at least a decade. His body has allegedly grown so tolerant of the substance that he needed to have a concentrated and synthetic form of caffeine administered directly into the bloodstream through intravenous therapy in order to bypass his liver and kidneys.

Other reliable sources have stated that concern over Jeff Sessions' addiction started when the problem has become serious when Sessions had to start resorting to daily coffee enemas just to feel the desired effects that drinking his coffee used to give him.

For the process of the enema, Sessions would lie on the floor as a trained person would slip in a small hose that hung from a suspended funnel whereby the lukewarm coffee would be poured directly into the bowels of the Attorney General.

In only a few months this method also became ineffective as his tolerance to caffeine grew to the point where the concentrated synthetic form had to be brought in and administered through an IV.

According to many doctors, caffeine can be addictive and people can develop a dependency for the substance if it is overused. This particular case is no doubt an extreme example of caffeine abuse, a trap that Attorney General Jeff Sessions has sadly fallen into. Sessions and his family have asked for prayers and kind wishes during this time for his recovery.
Ivan the Stakhanovets
4/13/2017, 4:50 pm
U.S. drops "mother of all bombs" in Afghanistan, marking weapon's first use
Mothers everywhere are objecting to the use of the GBU-43 airburst bomb and specifically its sexist and binary cis-gender reference as "mother" of all bombs.
"Ya get to be 43 and the first thing that bastard wants to do is DROP you and go get a pair of 20's? Like hell! That bomb does one thing only. A mother can do anything, and all at the same time!" said one anonymous protestor. "Does that bomb have six hands? No. Do you see eyes behind it's head? No. Can it make money grow on trees? No. How can you call it a Mother of anything?"
Details as they develop, films at ten...
Karl Marx Treatment Center
4/12/2017, 12:42 pm
... there's always going to be someone to the Left of you.
(From their twitter account.)
None of the people who've called themselves socialists are or were socialists. Nothing they've done is socialism. It was all capitalism. Socialism is something else.
Now try to imagine socialism.
Genosse Dummkopf
4/12/2017, 11:36 am
City of
Trier
.
Roots around 400 (2050?) BC. Gentle hills, Mosel river,
Moselle
vineyards.
Three (twenty?) centuries later, Romans rule Treveris.
Ancient bridge, town gate, thermae, amphitheater, basilica - all still here.
zzzip - fast forward, 1818.
Trier, May 5th - a midwife storms into a
Justizrat's
studio:
Herr Marx, it's a boy!
Law, Philosophy, writing.
Hegel, Feuerbach, Bauer.
Paris, Brussels, London.
Manifesto (1848)
,
"A spectre is hunting Europe - the spectre of communism"
,
Das Kapital (1867)
.
150 years and hundreds of millions fanatics later, interim balance: some 100 million killed.
zzzzzip - time vehicle, 2017.
Trier.
alea iacta est
- the die is cast.
A year of to and fro, now City Council approves:
Yes, Chinese. Bring it, Kalolu Malxu monument
.
Komissar al-Blogunov
4/11/2017, 9:04 pm
Life is complicated these days, and there's just so much outrage to absorb your time. You may be like many Americans, and just not sure what you should be outraged about and which side to pick.
But wait no longer! Simply download the free People's Current Truth App™ and you'll be officially in the know. Whether it's Cecil, Harambe, Bush, or Trump, you'll receive timely updates with clear instructions on…
When to choose the other side!
How to vent your righteous anger!
Where to go for t-shirts and matching placards!
Progressive social media protest calendaring function!
The People's Current Truth App™ requires some permissions







·

Access to all other financial assets




·

Access to all social media




·

24/7 tracking and surveillance





·

Block inappropriate reading, viewing, and unapproved historical material
So, what are you waiting for? Know what to think and what to do – download your People's Current Truth App™ today!
Evil Smiley
4/10/2017, 9:48 pm
United Airlines will not be beat, even if you take their seat.
Previously, airlines were required to pay passengers four times their ticket price if they were more than 4 hours late, but United now has a deal beater.
If they need a passenger's seat, they will simply beat them and drag them from the plane. This way, they keep costs low for the little people, while kicking the teeth in of uppity, fancy doctors.
United convincing a passenger to give up her seat.
Captain Craptek
4/7/2017, 2:45 pm
Comrades,

The guard rails are down... all bets are off... anything goes... drink up.
The uncontested absurdities of today are the accepted slogans of tomorrow. They come to be accepted by degrees, by precedent, by implication, by erosion, by default, by dint of constant pressure on one side and constant retreat on the other - until the day when they are suddenly declared to be the country's official ideology. ~ Ayn Rand
Rubiks & Rubik's Cube ® used by special individual permission of Seven Town Ltd.

Write down this number and report to your Kommissar at the nearest railroad station.
Don't forget warm clothes and a shovel!
News
Site map
SitemapIndex
RSS Feed
Channel list